Novelties 2020: N&B introduces its "Novelties Beauty 2020"
From Nature to finished product, all the steps of the production cycle at km. zeromade in Salento where Innovation meets the typical ingredients of the Mediterranean tradition.

N&B introduces its "Novelties Beauty 2020" with an innovative concept: "Organic Cosmetics 4.0"as multitasking solutions that perform multiple functions and are perfect for a "metropolitan lifestyle". A beauty routine with the highest effectiveness, able to seduce all the senses and giveinstant beauty and well-being.

BEAUTYFOOD SKIN ENERGY BOOSTER.
Beautyfood does not fit in any existing product-type, cannot be classified as a cream, neither a lotion, nor a gel. Beautyfood is meant to be different. The refined formulation merges the deep hydration of a moisturizing cream with the light texture of a face tonic, sealing the moisture inside the skin guaranteeing the right water intake and offering a strong protection against external agents, especially atmospheric pollution. It creates a brand-new product category: the skin energy booster.
Beautyfood is an innovative concept that redefines the purpose of a cosmetic product and its impact on the person.Our eating habits, our daily food choices and the quality of the air we breathe have a vital influence on our health and how we feel during the day. Similarly, our skincare routine and our choices of cosmetics significantly affect the look and beauty of our skin.
Altogether, these essential elements have theincredible powertodetermine the overall level of energy we have during the day. Beautyfood Skin Energy Booster is a concentrate of organic and natural active principles that gives an explosion of positive energy and beauty on your skin with a sensational silky effect. Acting as a natural supplier of nutrition and beauty, it represents the best solution for completing your skincare routine in just one step. The innovative silky and balanced texture enables a rapid absorption of the active principles and ensures deep and long-lasting moisturization of the skin. Beautyfood improves the look of your skin. A better look makes you feel better about yourself and improve your self-confidence. A better look and better feelings enhance your mood and lead to a better life quality!
Beautyfood evokes unique emotions at the skin level thanks to an exclusive, refined and striking texture and a distinctive olfactory note (Salento and Mediterranean scent). These skin emotions affect your mood and create an exceptional energetic sensation.
A unique skin energy booster that has the power to transform your skin look while seducing all your five senses. Beautyfood takes care of your skin, feeding your soul and strengthening the bond between body and mind.
Beautyfood presents a modern multipurpose formula with a powerful quadruple action: Rejuvenating – Soothing – Moisturizing – Antipollution
This powerful formula is based on the four elements for life (Wheat, Olive Oil, Wine, and Aloe Vera) which altogether develop a strong moisturizing and soothing action alongside a strong protection and antipollution activity. The formula is further enriched by the organic extracts of Tobacco, Prickly Pear, Caper, and Olive Tree leaves, all elements that are rich in polysaccharides, bisphenols, and flavonoids that offer an anti-age and calming action; organic extracts of Orange and Lavender well-known for their relaxant and detox properties; and Extracts of Jojoba and Shea Butter that provide an important elasticizing and brightening action.
The product is unisex and suitable for all skin types, from the most delicate skin of a baby to the most stressed skin of an old person. Ideal for both face and body, the product can be used for multiple purposes: skin-moisturizer, pre- and after-sun, after-shave, skin-relief, skin-toner, make-up primer
The results on the skin are extraordinary. Starting from the first application your skin will immediately appear visibly smoother and velvety, more elastic and tonified, softer and plumped, and will have a brighter and younger aspect.
100% People & Nature Friendly – Organic Bio

ALOE & GINGER ORAL CARE . 
Aloe & Ginger Oral Care is an extraordinary combination based on Aloe Vera & Ginger for a complete, innovative and safe oral care, ideal for the whole family.
Aloe & Ginger Oral Care is a full oral care treatment that works as a toothpaste and a mouthwash/sanitizer at the same time. Hence, the product presents an innovative texture which fits between a paste and a gel. While brushing, it respects and improves both tooth and mouth wellness for a long-lasting freshness sensation. The most important active ingredient is the Hydroxyapatite, a natural mineral which is already present on our teeth surface, but we lose daily due to poor oral hygiene or abuse of soft drinks, coffee, medicines, etc. The Hydroxyapatite attaches itself on the tooth by settling in the micro-lesions and the dental biofilm. The result is a natural remineralisation of your teeth at every application which improves the teeth colour and brilliance.
Aloe & Ginger Oral Care offers an immediate rescue to the emergency call of teeth and mouth!
Aloe & Ginger Oral Care acts as a natural filler which fits into the small cracks of the enamel, enabling a double action of tooth protection and repairing in one go.
Thanks to its immediate efficacy, the product provides an outstanding impact on the tooth surface, making it extremely smooth after just one application and resulting in a remarkable cleanliness sensation that lasts over time. As a result, the product enhances the oral wellness and promotes the overall hygiene and balance of the mouth while providing a very pleasant feeling of freshness. The packaging of this product is made out of recycled plastic.
100% People & Nature Friendly – Organic Bio
THE MASK.
THE MASK is an innovative "modern urban cosmetic" ideal for all, especially for those people that love to take care of their appearance and beauty but do not have plenty of time to dedicate to their skincare routine. A truly unique and innovative solution that represents the "organic" answer to the increased search of cosmetic products with immediate efficacy and able to restore the skin from stress and pollution, while stimulating the natural process of cellregeneration right from the first application.
The Mask is an organic precious mask that offer a strong multifunctional action: Rejuvenate – Balance – Detox – Gentle scrub
The Mask contains rich active principles that provide four significant activities in just one product.  The effects are visible after first application. It is the result of an attentive, careful combination of extraordinary ingredients, well known for their natural beneficial activities, supported by a scrupulous production process able to maintain unaltered their properties while increasing their individual functions on the skin. THE MASK offers the emotional texture of a face cream and a fresh and natural fragrance of the Mediterranean nature.
The Mask offers a strong cleansing and purifying action on the face, removing all the skin's impurities and helping it to breath and recover from stress and pollution. It provides an important rebalancing and "detoxifying" activity which provides a renormalizing harmonic and gentle astringent action. Finally, it works as an extraordinary antipollution treatment, creating a protective film on the skin that stop the negative effect of pollution.
100% People & Nature Friendly – Organic Bio
ALOE VERA GENTLE HAND WASH.
Delicate hand wash that offers an extraordinary moisturizing and refreshing effect and leavesa velvet skin already after the first application. It is a product designed for the whole family and suitable for all skin types, even the most irritated and sensitive ones.
Thanks to the presence of a high percentage of Hyaluronic Acid, Aloe Vera Gentle Hand Wash nourishes the skin deeply and gives a long-term hydration, leaving it silky and shiny. The product comes from a skilful combination of Aloe Vera, Olive oil and precious active ingredients from organic agriculture that offer a cleansing and moisturizing action.
Aloe Vera Gentle Hand Washoffer a pleasant fragrance that recallsthe most typical Mediterranean scents. Finally, the packaging of this product is made of post-consumer recycled plastic.
100% People & Nature Friendly – Organic Bio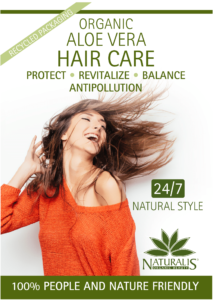 ORGANIC ALOE VERA HAIR CARE.
Aloe Vera Hair Care is a key product for all those who want to take care of hair. It is an organic natural styling gel which act as PURE FOOD FOR YOUR HAIR, by delivering a "triple hair-conditioning action": protecting, revitalizing and balancing hair and scalp, hel ping to re-establish the natural balance and well-being.
A light but rich texture, which is quickly absorbed, leaving a surprisingly sit ky, non-greasy, and shiny effect. Ideal for a daily natural style, visibly increases hair softness and brilliance.
Aloe Vera Hair Care represents a fantastic organic alternative to the "conventional" hairstyling gel and works as an actual hair treatment, providing a 1000/o natural styling, while restoring the general state of health of the hair.
The product is perfect for all occasion and for all hair types, including hair that are ruined, treated, stressed and damaged by external agents, such as pollution and the sun.
Aloe Vera Hair care is Pure Aloe Vera Gel enriched with precious natural extracts well-known for their powerful and beneficial properties for hair and scalp, such as Jojoba, Argan, Moringa and Carragenin.
The action of the active ingredients protects the hair from external aggression caused by pollution, leaving your hair clean and pleasant for a long time. A regular use ensures a perfect condition health and balance of your hair. Suitable for daily use and even for treated hair.
100% People & Nature Friendly – Organic Bio